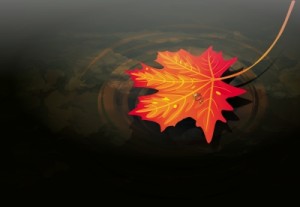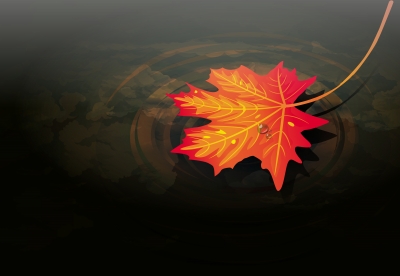 There's change in the air. Can you feel it in the cooler air? See it in the slight change of leaves from green to gold and red? It's just beginning. The darkness is covering the evening earlier than usual, cutting our evening walks short. 
Change.
For me, it's happiness. Something new is coming about, even if I've experienced it before (like fall), it's never quite the same. With change, we don't always know where it will take us. Like the leaf in the photo, we cascade with the flow of our lives and are swept away to new shores. 
This can produce fear at times, right? We don't always feel happy about change, but perhaps it would be useful to start feeling that way. The promise of something better is here. We aren't in the same place anymore. We aren't the same person anymore. 
Everything is changing. 
And with that, happiness abounds. 
We see this all the time in novels or films, right? Something has to change in order to make way for the happy ending. A resolution to what we've been grappling with can only occur when there's a magical shift inside us or around us. 
I love the fall because it's the sign of yet another change. Our bodies start craving comfort food like soups and stews. We want to huddle at home on the couch with our sweetheart or play with our kids. We come back to ourselves after all of the expansion of the spring and summer months. We come back to our center. 
And with it, our happiness abounds.
So let's all allow the happiness of change to enliven us as we see the leaves change, bringing that brilliant fall color.
I am ready for brilliant color in my life–even when it comes from change. What about you?
Image courtesy of nirots at FreeDigitalPhotos.net