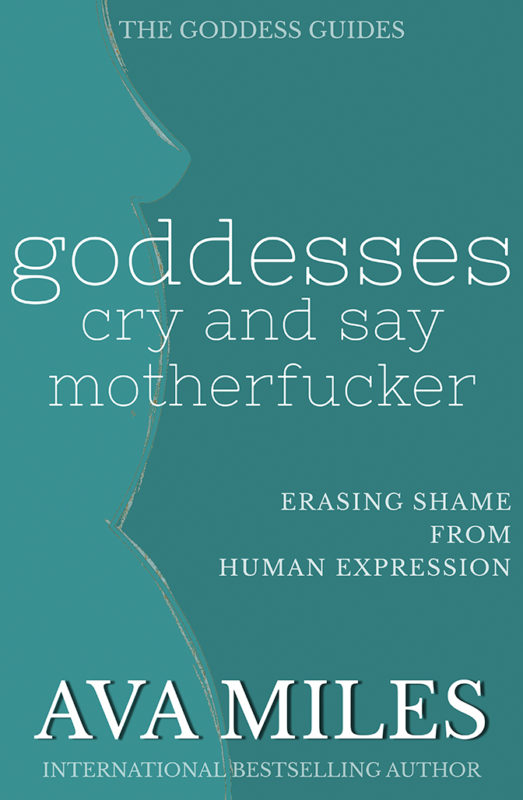 Forget all you've learned about getting angry or sad and everything in between… Express yourself like a goddess.
"Aren't you sick of being told what a 'good' woman and a 'bad' woman is and does? Of judging yourself for not measuring up?"
In Goddesses Cry and Say Motherfucker (part of The Goddess Guides to Being A Woman self-help series), International Bestselling Author Ava Miles encourages women of all ages to take back their right to self-expression, goddess style.
About the Book
Women are shamed for everything from showing anger to crying, sometimes even for laughing too loud or dressing too colorfully. We are surrounded with stories and taboos that keep us in check. We start to believe our "darker" expressions and emotions make us unlovable or are "too much." That if we express how we really think or feel all the way, people will punish, shame, or abandon us.
But no more. Expressing ourselves like a goddess woman involves freeing ourselves from our masks and stepping into our goddess shoes. If we need to cry, we cry. If we need to swear, then we do it—in a conscious way. But we express… Ava guides us through the beliefs holding us back so we can kick them to the curb and reclaim our wholeness.
This guide is for:
Women who are sick and tired of being told what to say and how to act.
Women who feel wrong or bad for expressing their true feelings.
Women who are fed up with muttering under their breath.
Women who swallow their thoughts and opinions over and over again.
Women who get angry and feel bad about it.
Women who are depressed.
Women who won't allow themselves to cry or feel guilty if they do.
Women who don't laugh like they want to because it's not ladylike.
Women who don't want their children to be shamed for expressing themselves like they were growing up.
Forget all you've learned about getting angry or sad and everything in between… Express yourself like a goddess.
Embark on the inspiring journey awaiting you in The Goddess Guides and become the goddess woman you were born to be. Start living life on your own terms. Today!
Other Books in "Goddess Guides"
Disclosure of Material Connection: Some of the links in the page above are "affiliate links." This means if you click on the link and purchase the item, I will receive an affiliate commission. I am disclosing this in accordance with the Federal Trade Commission's
16 CFR, Part 255
: "Guides Concerning the Use of Endorsements and Testimonials in Advertising."