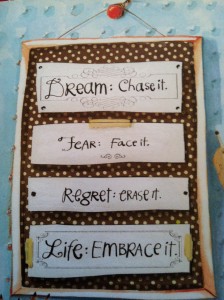 My closest friend has found her bliss in the last couple of weeks, and I have to say I only feel the greatest joy when I hear her talk about it. Like I used to be, her career is in the international field involving travel to dicey places. She's successful and accomplished. 
And then pow, out of the blue, she discovers she wants to play the piano. She'd wanted to as a child, but the circumstances hadn't worked out. Nearly every spiritual teacher out there says we know our true passion when we're kids. I wanted to be a writer and look at me now.
My friend follows through on this passion. Signs up for piano lessons. And receives pow number two. Her teacher looks at her stunned after she plays a little (remember she's never taken lessons) and says she's a prodigy. That's right. PRODIGY. Her teacher already has her signed up for her first concert in a couple of months and says to expect big things from herself and her gift.
Because our bliss is our gift. It's the best version of us. It's what we've been given to make ourselves and others happy. My friend is radiant. I've never seen her happier. She knows her life literally has altered–for the better. And yes, there's some fear around not knowing how that's going to go or what it's going to mean for her life. But once you've found your bliss, you have the spark inside you to move forward. You'll walk through fire, I told her, just to follow it, be a part of it. And she now understands why I could leave the old career behind. 
I know it's no accident that we're friends. Our individual spark set off sparks in others. Especially when our intention is to bring happiness to the world and inspire others–my goal every day. 
I can't wait to see where this takes my friend. I'm going to be front row at her first concert, and her next one, and the next one after that. 
What do you have bubbling inside you that's your salvation? What's the one thing you would do if money was no object? Think about it. You might have just discovered you're a prodigy too.