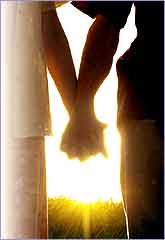 Happiness is the moment we meet THE ONE. My character in NORA ROBERTS LAND has this moment. When she sees Tanner McBride, she simply can't look away. She can feel him from across the room. She wants to talk with him. Have him look into her eyes. 
Even though she's scared of her reaction to this steamy hero because she's been hurt before.
"The moment" happens in real life too. One of my best friends called me a few weeks ago and told me he'd met THE girl and had experienced something he'd never felt before. More than passion. More than attraction.
It's connection.
The kind that reaches to our core. It makes us better individuals. It helps us grow.
The poets call it soul mates. Some call it twin flames. It isn't just in fiction. And isn't that great? 
Happiness takes off to a new level. In Tanner and Meredith's case, it takes a while to reach that state of bliss. With my friend, he can't stop smiling and laughing when he talks about her. 
THE ONE changes everything. And it only takes a moment. We don't consciously choose the place or the time. It finds us. It's like this incredible gift coming to us. 
It's meant to be embraced and savored. 
So, if it's found you, take a moment to think back to that magical moment when you first saw your ONE. And if you haven't yet, it's coming. Believe it. 
And if you want to keep experiencing "The Moment" over and over again, read a romance novel. It always delivers. 
Photo courtesy of http://scrapetv.com/News/News%20Pages/Technology/pages/Microsoft-and-Yahoo-heat-things-up-again-Scrape-TV-The-World-on-your-side.html#.UcOOb_msiSo