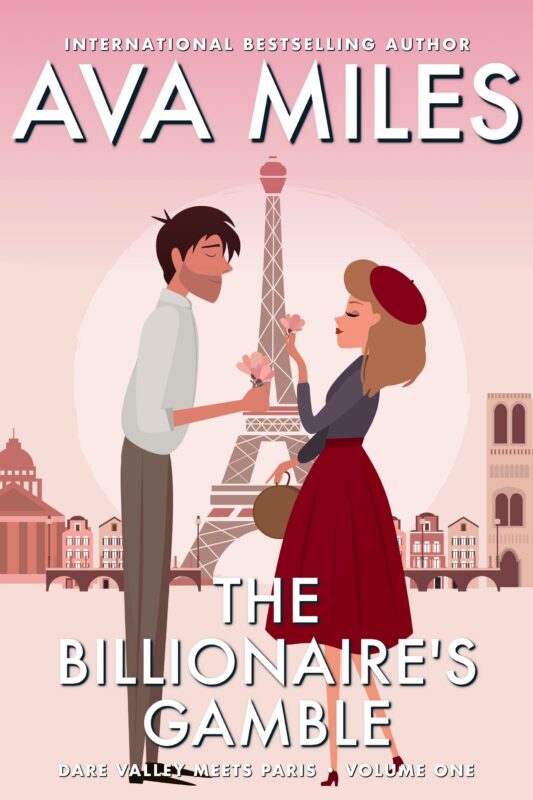 A Billionaire, A Baker, Paris, and a Small Town? What more could you want?
Ava welcomes you to a special four-part mini-series filled with the charm of her small town Dare Valley and the magical sophistication of Paris. Throw in a nerdy inventor transformed into a sexy billionaire along with an enchanting romance with a sexy baker and her scrumptious cinnamon rolls, and you'll be hungry for more. 
About the Book
"Filled with delicious cinnamon rolls, humor, and a terrific new invention, THE BILLIONAIRE'S GAMBLE is a delightful beginning to what promises to be a great mini-series!" –  Goodreads Reader
He lost the biggest gamble of his life. 
Turns out he might have just won his heart's desire.
Self-made billionaire inventor and infamous bad boy Evan Michaels has lost the biggest gamble of his life in a poker game. For one month, he must live and work like a "normal" person in the small town of Dare Valley and give up his playboy ways. When Evan meets Margie Lancaster, his landlord and the town's new sexy baker, he's not so sure he can make it a month.
**Author's Note: This is a four-part mini-series with cliffhangers!**
Treat yourself today! 
THE BILLIONAIRE'S GAMBLE #1
THE BILLIONAIRE'S SECRET #2
THE BILLIONAIRE'S COURTSHIP #3
THE BILLIONAIRE'S RETURN #4
Interested in baking Margie's famous cinnamon rolls and other mouthwatering treats? Ava shares her favorite baking recipes as a former chef in her HOME BAKED HAPPINESS cookbook.
Other Books in "Paris Billionaire"
Disclosure of Material Connection: Some of the links in the page above are "affiliate links." This means if you click on the link and purchase the item, I will receive an affiliate commission. I am disclosing this in accordance with the Federal Trade Commission's
16 CFR, Part 255
: "Guides Concerning the Use of Endorsements and Testimonials in Advertising."