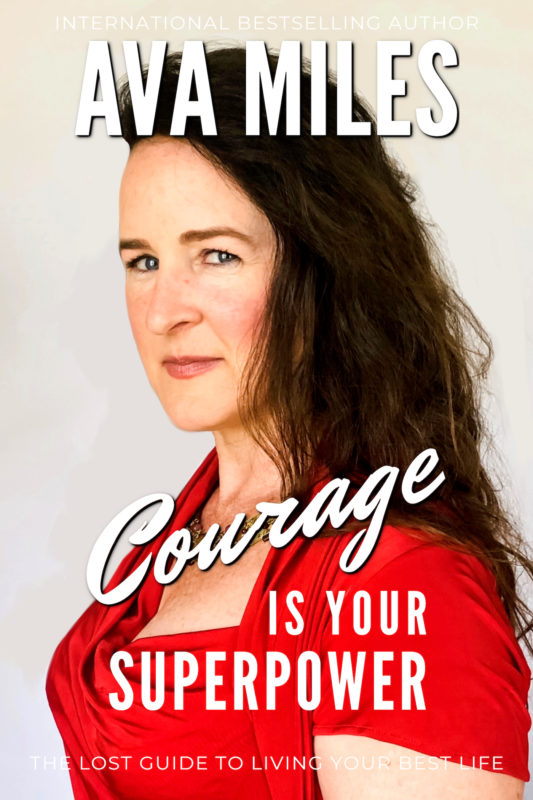 Never have we needed courage more...Reclaim yours.
"A life-changing journey…" Crystal Andrus Morissette, S.W.A.T. Institute
International Bestselling Author Ava Miles guides us through unchartered waters to overcome the fears running our lives and relink us to our innate superpower of Courage, perfect for fans of Brene Brown.
About the Book
Fear.
This insidious, larger-than-life monster stops many of us in our tracks and keeps us chained in unhappy situations, living unhappy lives.
People ultimately can't stop us from achieving our dreams, though they may try. Fear, however, can simply flick her fickle finger at us, and we screech to a halt.
In three words: fear's a b*tch. And she's looming large in our turbulent times.
What's the antidote? The willingness to unravel the roots of our programming, ongoing fear thought management, and cutting-edge tools that tap into our inner courage.
In her work rebuilding warzones, Ava faced fears few of us can imagine. She systematically learned how to overcome these terrors and tap into her inner courage to help others. In this book, she shares a detailed overview of universal fears, everything from phobias to fear of the unknown, while also walking us through the roots of our own fear profiles that affect our relationships, life choices, and passions.
Life-changing tools in this book include:
Facing down and overcoming pandemic fears
Clearing fear patterns begun in childhood
Spotlight Tools to analyze our physical and emotional fears
Super Tools to address our personal fear profiles
Take Back Tools for cultivating courage
Cutting-edge exercises to relink our hearts to trust
Courage Is Your Superpower is part of The Lost Guides to Living Your Best Life series, a complete system to help us reclaim the nine superpowers essential to rocking life.
EXCERPT:
When it comes to fears of the heart, many of us have a whole stockpile of them, and an equally large stockpile of armor for when we feel the need to protect ourselves.
How did we get to this point? Our superhero self is born with a completely open heart, one that doesn't even register that love isn't the natural state of the universe. But then something happens… There's that first moment when love is withdrawn or simply isn't there, and it seems to change everything. Our entire existence pauses as the shock and hurt washes over us. Our hearts feel the change in the universe we thought we understood, and we begin to fear being hurt. We're talking pain in the heart, heartbreak, betrayal, loss—you name it.
And what's the greatest emotional hurt of them all? Not feeling loved or loveable, whether it be for a moment or a lifetime. This very premise does serious damage to our natural loving/loveable superhero wiring.
All of our emotional fears are like branches on a tree. The trunk is about feeling unloved.
When we don't feel loved, we begin to see ourselves differently. Could there be something about me that's unlovable? Am I wrong? The very essence of me? Could I somehow have created this unloving response in this other person?
Shame starts to surround our heart, and its sticky coating is as toxic to us as an oil spill is to a bird's feathers.
Once we experience this kind of hurt and these painful new beliefs arise inside us, we begin to see other people differently, don't we? We look at the new people coming into our lives and wonder whether they can be trusted. Sometimes we doubt them before they can fail us. Sometimes we even walk away before they can disappoint us. Maybe we don't completely believe we can be loved for who we are and whatever we're thinking or feeling in our hearts. This is usually because something taught us to fear. Again, love was withdrawn. Or perhaps we were shamed for expressing how we felt about something.
If you didn't feel loved as a child, especially by your caretakers and the people who told you they loved you, then you probably started having fears of the emotional kind early on. You may still be dealing with these emotional fears, and perhaps you feel they've cast a shadow over all of your relationships. Well, we're going to shorten or erase that shadow, starting today.
Other Books in "Nonfiction"
Disclosure of Material Connection: Some of the links in the page above are "affiliate links." This means if you click on the link and purchase the item, I will receive an affiliate commission. I am disclosing this in accordance with the Federal Trade Commission's
16 CFR, Part 255
: "Guides Concerning the Use of Endorsements and Testimonials in Advertising."