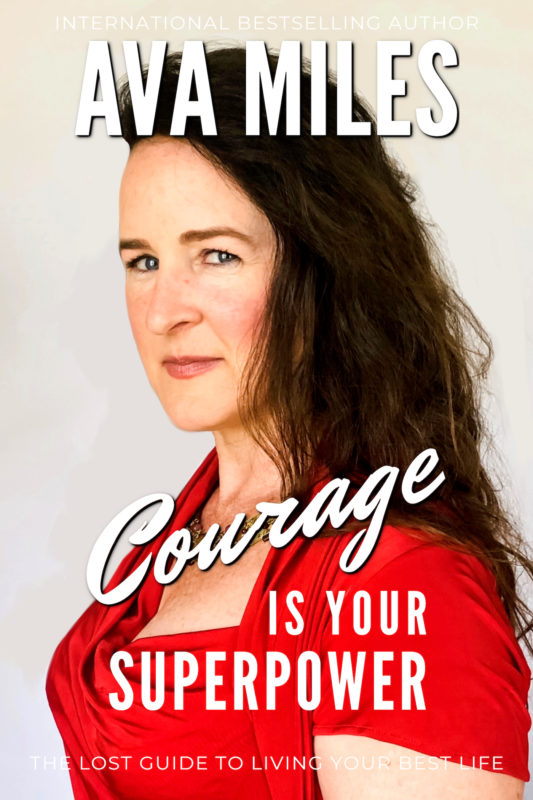 Never have we needed courage more...Reclaim yours.
"A life-changing journey…" Crystal Andrus Morissette, S.W.A.T. Institute
International Bestselling Author Ava Miles guides us through unchartered waters to overcome the fears running our lives and relink us to our innate superpower of Courage, perfect for fans of Brene Brown.
About the Book
Fear.
This insidious, larger-than-life monster stops many of us in our tracks and keeps us chained in unhappy situations, living unhappy lives.
People ultimately can't stop us from achieving our dreams, though they may try. Fear, however, can simply flick her fickle finger at us, and we screech to a halt.
In three words: fear's a b*tch. And she's looming large in our turbulent times.
What's the antidote? The willingness to unravel the roots of our programming, ongoing fear thought management, and cutting-edge tools that tap into our inner courage.
In her work rebuilding warzones, Ava faced fears few of us can imagine. She systematically learned how to overcome these terrors and tap into her inner courage to help others. In this book, she shares a detailed overview of universal fears, everything from phobias to fear of the unknown, while also walking us through the roots of our own fear profiles that affect our relationships, life choices, and passions.
Life-changing tools in this book include:
Facing down and overcoming pandemic fears
Clearing fear patterns begun in childhood
Spotlight Tools to analyze our physical and emotional fears
Super Tools to address our personal fear profiles
Take Back Tools for cultivating courage
Cutting-edge exercises to relink our hearts to trust
Courage Is Your Superpower is part of The Lost Guides to Living Your Best Life series, a complete system to help us reclaim the nine superpowers essential to rocking life.
Other Books in "Nonfiction"
Disclosure of Material Connection: Some of the links in the page above are "affiliate links." This means if you click on the link and purchase the item, I will receive an affiliate commission. I am disclosing this in accordance with the Federal Trade Commission's
16 CFR, Part 255
: "Guides Concerning the Use of Endorsements and Testimonials in Advertising."