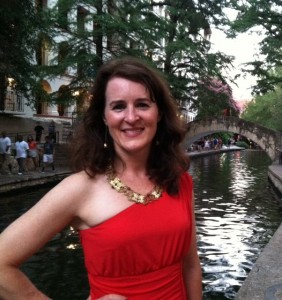 You may not be surprised to discover that I consider myself an artist. This isn't from the mere fact of being a writer. No, I also love to draw, paint, sculpt, and throw on the pottery wheel. Oh, and let's not forget about cooking (that's a big one for this former chef).
I love hanging out with artistic people, and I love being creative.
There's a great joy that comes when I make a connection with another artist. A few years ago, I bought a beautiful Celtic necklace to wear at my first Nora Roberts' party from an artist named Karen who lives in Washington State. You can understand how I wanted something special for such an event, since Nora had given me her blessing for NORA ROBERTS LAND. Well, I found a special dress for the party as well, a fabulous one-shoulder number, and I had a moment of inspiration. I wanted an arm band. You know, something like a Roman woman would have worn when Julius Caesar was alive. I contacted Karen and asked if she could make me a matching arm band, and we got to talking.
She was also pursuing her dream of making beautifully inspiring jewelry and trying to phase out her day job. I was on a similar path with my writing at the time. Our spirits clicked, and we talked about our divine purpose and how magical things become when we start living our highest expression.
She ended up offering me the arm band in exchange for promotion, and that piece has been on my website under my favorite things ever sense.
Happiness is making artistic connections.
But it didn't end there. She said she'd make me a special necklace when I became published, and she made something so magical that I had to wait for the most perfect occasion: a major publishing party with other bestselling authors and my favorite gents from Apple'
s iBooks. I found another fabulous one-shoulder dress pictured with this post—something hard to find—but the style of which I adore. The combination was perfect.
For me, supporting other artists is fun. Readers and other authors support me, and I'm grateful for the connection. Yet supporting Karen,
this talented artist, and seeing what she can create…well, it makes me so happy. And of course, people always ask about jewelry like this. It's so far from anything I ever imagined wearing when I was growing up in the Midwest. And of course, Karen supported me too. I sent her an autographed book and some postcards, which she left with some local galleries, spreading the word.
Is there someone you could support who is artistic? Is there a trade you might do to help each other out? Be creative. Something might surprise you. And you'll make an artistic connection of the happiest sort.
For more information about Karen's magical jewelry, visit her website at http://www.mysticmetaldesigns.com/.