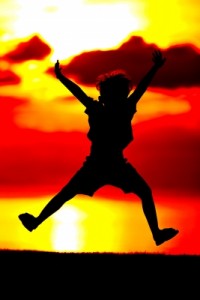 Being spontaneous seems to be a facet of ourselves we don't use as often as when we're a kid jumping in that puddle because it seems fun, having no thought of how wet our shoes will get or how upset our mom may be.
But being spontaneous is one of the keys to happiness.
Even though I was finishing up a new book, this past week, I decided last minute to throw a party to celebrate St. Patrick's Day. My family is Irish, from a small town that boasts to be the Irish capitol of the state, so we always celebrate it up. I wanted to do something fun with other authors like throw a Facebook party and talk about our favorite Irish actors and holiday memories. And it was a blast.
But the other thing I decided to do was to put NORA ROBERTS LAND, my first book, on sale to celebrate the holiday. Just for one day.
The luck of the Irish was with me because I couldn't have imagined the abundance that poured forth. The book started selling like Irish hot cakes, and there I landed on the charts on Amazon next to JD Robb and Debbie Macomber. Holy moly!
You see, just like that little kid jumping in puddles (which I used to do all the time by the way), I knew that having a party and celebrating St. Patrick's Day was going to make me happy. And I wanted to share that happiness by reducing my book to less than a dollar. Imagine that! Working on a book for over a year and then selling it for less than a dollar. Sometimes commercialism is incredible when you think of it like that.
But I was happy to share my joy, really, and look what happened. It spread. It was contagious.
All because I decided to be spontaneous, follow my guidance, and do something special and fun.
What is your "puddle?" The area in your life that you know will make you happy if you just jump into it? And what stops you? Is it all that head chatter about the work involved or the consequences?
Take a minute this week. Maybe stick your toe in the puddle or throw a rock in it to create a splash. Whatever it is, discover the happiness from being spontaneous. You won't regret it!
Image courtesy of arztsamui / FreeDigitalPhotos.net