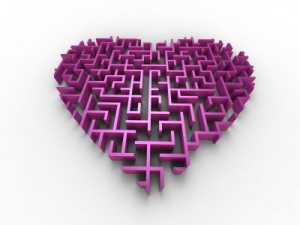 Sometimes we're closer to our dreams than we think. This truth, this certainly recently became clear to me when I came upon a labyrinth. I'd only walked one once—the most famous one in the world in Chartres Cathedral in France. But I recently discovered one almost in my backyard. It's nestled on the edge of our small community park. Inspired by all of its mysterious symmetry, I walked the circular paths and was struck anew at its teachings. It's sometimes hard to see where your row is taking you, and when you think you're farthest from the center—your destination—you discover you are actually only a few steps away.
The labyrinth shows the illusion of time and space so well, you see, and if you've never seen one or walked one, I highly recommend doing something about it.
Happiness is listening to the labyrinth.
As I continue to pursue my own dreams, I remind myself of the labyrinth's teaching about time and space. I hold fast to the truth that I am closer than I might think to having what I want. I have been walking these paths for some time now in pursuit. I have to be closer to my destination by that sheer act of motion, right?
The shortest distance between two points is a straight line, I remember learning, and while that might be true, life doesn't always feel like a straight line, does it? Sometimes we feel like we're meandering. Sometimes we have no idea where the path is going. Sometimes we wonder if we aren't taking the absolute longest route to our destination. And sometimes we fear we will wander aimlessly in circles forever and ever, and never reach it.
Take heart with me today and believe you are closer than you think. The labyrinth in all its perfect, mysterious symmetry tells us we are.
Image courtesy of Ventrilock at FreeDigitalPhotos.net