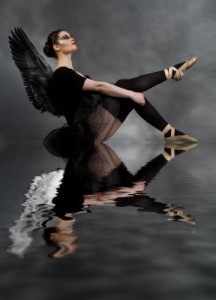 As a woman who was the oldest in the family, went to Catholic schools, and pretty much hated conflict, I was always "the good one." I forced myself to fit into this box for decades. At times, all the emotion I would suppress would come surging out like water in a pot that boils over.
Emotions are life. They aren't who we are, but we have this body, and it has this mysterious, mystical thing called emotions. In the past, I could feel the build-up coming, but I didn't know what to do with it. Okay, that's not true. I did. I tried all the harder to keep the lid on. It never worked. If the stuff couldn't come out, it simply rooted itself in me in harmful ways. Illness, depression, avoidance. You know the ways.
This week, my energy hasn't been completely in the happy jumping-for-joy category, and I decided to make my peace with it and say, "Screw it." If my language offends you, well…you can stop reading.
But seriously. It's not that I'm screwing being happy. No, that's still my number one desire. I'm saying "Screw it" to all my stories that are keeping me from feeling it every moment of the day.
Happiness is saying, "Screw it."
This is a loving act, a bold one—the kind of intention that leads to more freedom. I can feel it emanate and radiate from my very bones. Screw all this scarcity thinking. Screw all this negative thinking that I won't manifest this beautiful dream I've been believing in and pursuing for five long years. Screw all the people who politely nod when I talk about still believing in it. I've had these polite nods before when I pursued the dream of being a writer before I became published. I am good at picking out the naysayers who hide behind their artificial masks, thinking you're crazy under it all.
Screw the struggle to be happy, make something awesome happen. Simply screw it.
I surrender. I let it happen. I let it come, trusting somehow, someway it will. It has before.
In the meantime, I'm listening to tango music and dancing more, freeing myself up from this mind that really needs to take a holiday from its doubting thoughts. Dance is my physical way of saying Screw it all. I will dance and I will keep dancing. And as I do, all my earlier unhappiness starts to vanish, and I throw my hands up in the air with a half-smile, already restored.
Image courtesy of Victor Habbick at FreeDigitalPhotos.net