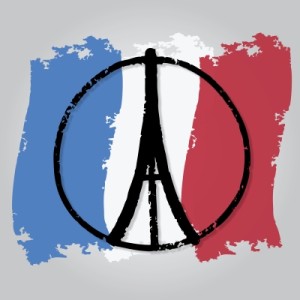 As many of you know, Paris is home to me. I've gone there three times in the last year alone as a combination of holidays and book research for the mini-series I released in August.
When the tragic events occurred less than a week ago, I was shocked and heartbroken. I have friends there now. Wonderful people I love to drink champagne with and talk about la vie (life). I also love to meander along the streets and window shop like any good Parisian. There are certain shopkeepers I wondered about. Had the woman closing her hat shop after forty years next month been glad to do so after this frightening event?
A good Parisian friend told me the streets were largely empty, and many shops closed. What was all the more interesting, he said, was how much comfort Parisians were giving each other—something he mentioned was not at all normal. The people he knew were declaring they would not let fear run their lives. They were going to resume living the life they knew.
But it's still scary, no? In my old career, I worked to rebuild warzones and conflict-affected areas. I went to cities while they were being bombed or shortly thereafter. I was scared, let me tell you. And this weekend, I felt a great solidarity for the people of the Paris, the home it's become for me.
You might be wondering why I'm talking about this event when I'm supposed to be talking about happiness, but something happened to me as I meditated and prayed after the news broke. I realized I could do something—even though it might be like a drop of water in the ocean. Our positive intention and action can make things better and can support a higher vision of the world, one where peace and understanding and safety flourish. I reached out to other authors with books set in Paris. My idea was to band together with our books that celebrated that magic of Paris—a magic we all need to really remember, one that these events seek to undermine. We could share these books with our readers and raise money to help the French Red Cross, who has been supporting victims of the attacks and works for peace.
We have eight authors in our group, and for a moment, it made me so happy to see these other women happily raise their hands and join me. They all said, "Yes, I want to support this. I wanted to do something to help." We all did. As one of my readers so brilliantly said, "We are all Parisian today."
Yes. We are.
I was working in downtown Washington DC on 9/11 and had to flee the city in a mob scene of chaos to Maryland in the opposite direction of my home in then Virginia. I stayed with a friend for three days until the government opened the bridges going into Virginia again. It was a terrifying time. I remember the first time I got back on the Metro after the attacks. I looked at everyone differently. I looked at them to see if they would be a threat to me and the city I lived in. Thankfully, prayer and time healed that mistrust, that fear.
I imagine Parisians will be going through their own process as life resumes. Because it does. The streets of Paris will see families walking down it again. The shops will have their bells chime as people resume their shopping. And the cafes…well, pink champagne and cappuccino will be drunk again.
Life can't be stopped, and neither can magic. Paris has the magic, and I for one know it will never lose it.
If you're interested in hearing more about our fundraiser for the French Red Cross, you can check out our special page detailing all of our wonderful group of authors and the books we have set in this magical town. https://avamiles.com/books-that-celebrate-paris/
Image courtesy of Pansa at FreeDigitalPhotos.net