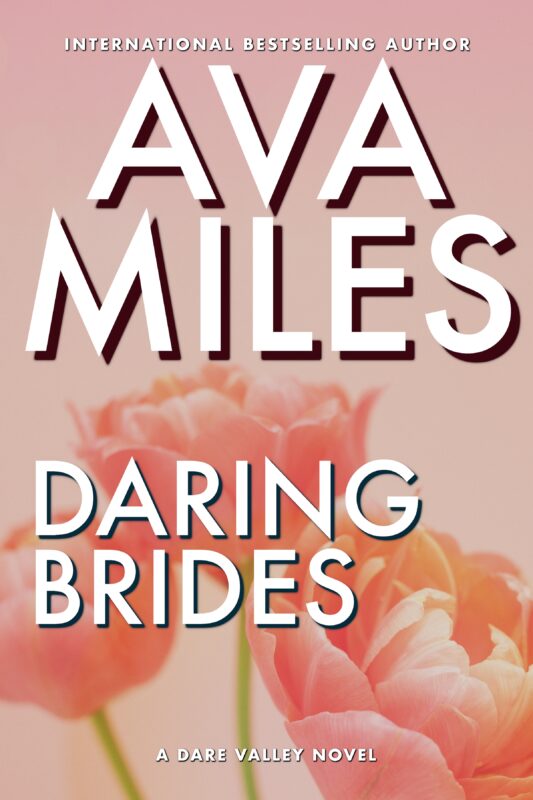 A charming collection about the silver linings in love...and weddings!
Discover why millions love Ava in this heartwarming bridal companion to her acclaimed Dare Valley series filled with four humorous and emotional short stories about the day we all dream of: our wedding day.
"Ava Miles just keeps turning out great stories…and these rank up there with the Fool's Gold series by Susan Mallery, the Lucky Harbor series by Jill Shalvis, and the Cedar Cove series by Debbie Macomber." Satisfied Reader
About the Book
From Nora Roberts Land, Meredith Hale and her own hero, Tanner McBride, embark upon the journey into their new life, Marriage Land. See what makes Meredith's wedding day so daring, and meet Tanner's best man, international news correspondent Asher Harrington. Then, there's Grandpa Hale's priceless advice about what makes a long-lasting marriage.
Jill Hale from French Roast has wanted to marry Brian McConnell since she wore pig tails in grade school. Brian has come around—finally. Sure, she got pregnant before they tied the knot, but it doesn't matter because they're going to live happily ever after. Find out what makes Jill a daring bride besides her wish to rent a pink circus tent for the wedding reception.
Peggy McBride from The Grand Opening never imagined getting married again, especially to hotel magnate and poker champion, Mac Maven. See what Mac gives her to make their wedding day daring, and watch as her cute-as-a-button son binds their new family together in the most adorable way ever.
Abbie Maven from The Holiday Serenade resisted her love for bad-boy Rhett Butler Blaylock, not only because he's a poker player, but also because that Southerner knows how to start a ruckus wherever he goes. Now, it's their wedding day, and Rhett's friends from Dare River show up as well as his mama, Eugenia Lynn, and his cousin, Charleston. Of course, a ruckus breaks out, making Abbie feel more than a little daring, but it's all in good fun and makes this couple's wedding the most memorable one in Dare Valley for some time.
Other Books in "Dare Valley"
Disclosure of Material Connection: Some of the links in the page above are "affiliate links." This means if you click on the link and purchase the item, I will receive an affiliate commission. I am disclosing this in accordance with the Federal Trade Commission's
16 CFR, Part 255
: "Guides Concerning the Use of Endorsements and Testimonials in Advertising."