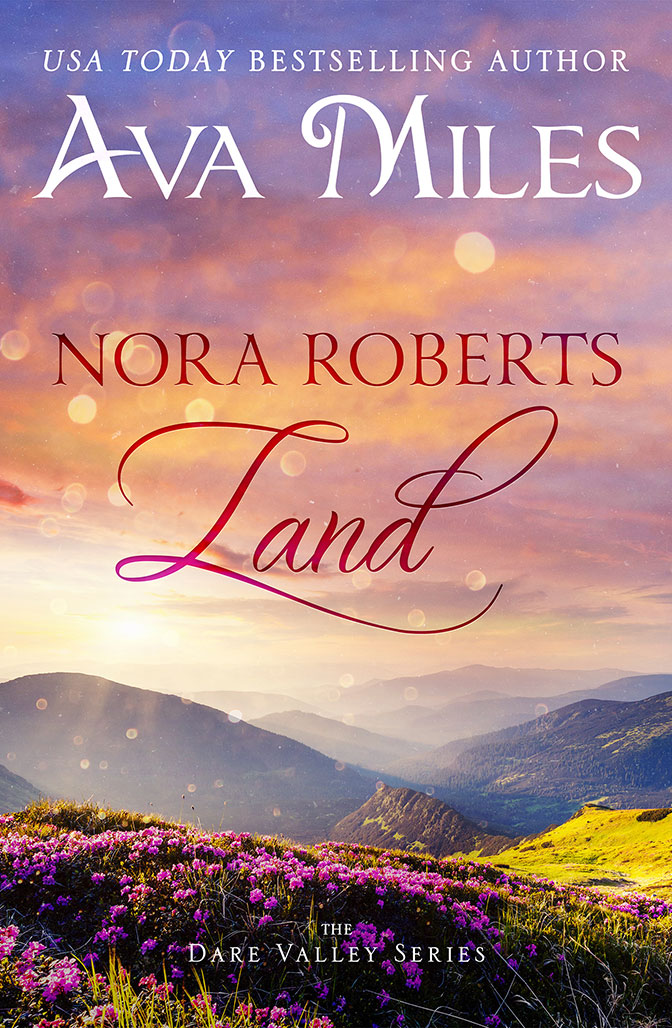 The Dare Valley Series: Book 1
**Nora Roberts gave her blessing for the use of her name in both the title and the premise in this suspenseful and emotional contemporary romance.**
Millions of readers have fallen in love with Ava's bestselling books...come join the family with a story to inspire you to never give up on happily ever after, Nora Roberts style.
International Bestselling Author Ava Miles presents the #1 National Bestseller NORA ROBERTS LAND. Selected as one of the Best Books of the Year (USA Today). #1 New York Times Bestselling Author Barbara Freethy says, "Ava's story is witty and charming."
About the Book
Journalist Meredith Hale's ex-husband claimed her Nora Roberts addiction gave her unrealistic expectations about marriage, and she believed him. All dreams of happily ever after—or Nora Roberts Land as her mother calls it—went up in smoke. But when her family asks her to temporarily help their Dare Valley, Colorado newspaper, she decides it's time to change her life and prove her ex wrong. She's determined to find her own small-town Nora Roberts hero, prove that true love exists, and publish a story about her quest.
War correspondent Tanner McBride has just returned stateside to work for a major newspaper, and the last thing he expects is blackmail. Yet, before he can even unpack, he's headed to Colorado. His assignment? Make his boss's ex-wife fall for him and then break her heart. Her article about discovering love à la Nora might air dirty laundry about her marriage to the media mogul, threatening his senate run. The mogul wants Meredith stopped, and he makes sure Tanner has no choice in the matter.
When the two meet, the sparks between them are undeniable. Meredith, who vowed never to date another journalist, begins to succumb. Could Tanner be her Nora Roberts hero? As they work together to uncover the truth behind a suspicious death, the depth of their feelings unfolds and both realize they've kept their secrets for far too long. But before the truth can be revealed, their investigation takes a deadly turn, one that might make Meredith's personal Nora Roberts Land go up in flames.
Other Books in "Dare Valley"
Disclosure of Material Connection: Some of the links in the page above are "affiliate links." This means if you click on the link and purchase the item, I will receive an affiliate commission. I am disclosing this in accordance with the Federal Trade Commission's
16 CFR, Part 255
: "Guides Concerning the Use of Endorsements and Testimonials in Advertising."